Business Services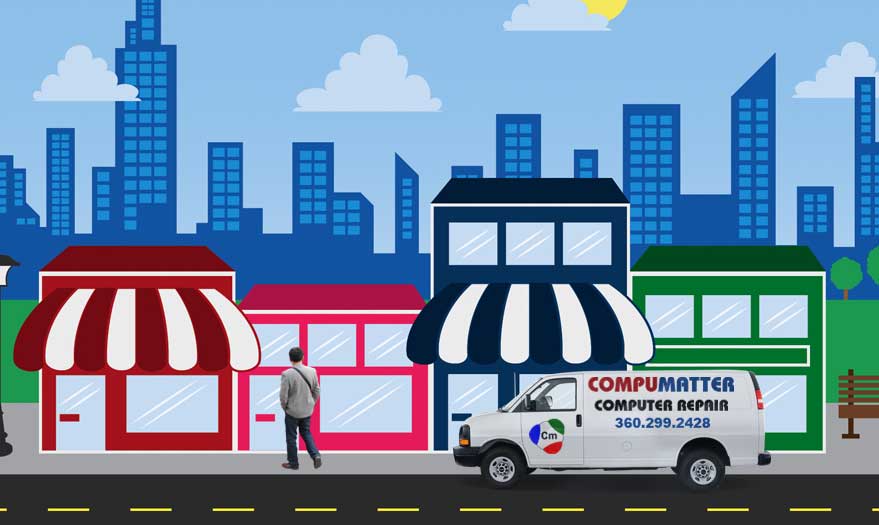 Business needs are often more mission critical than personal needs and require resolution in a timely fashion and at your location. We also recognize that your needs often relate to network troubles or infrastructure improvements that must occur at your location.
Give us a call and let's talk about your specific needs so we can see if our expertise lines up with your problem at hand.
Some of the more obvious business solutions we offer include
General Computer Problems – you'd be hard pressed to find more expertise than that found at CompuMatter. We have served over 10000 customers over a period of the last 10 years. We see it all. Viruses, freezing, slowness, black screens, blue screens, rebooting, can't print, can't connect to the network and the list goes on and on.
On Location – No problem. We service businesses within roughly a 20 mile radius of our store. There is some travel time so beyond that it's not as likely to be cost effective. Just the same, you may find we're the best and we're willing to come wherever you are under those circumstances.
Remote Control – Convenient and quick. Sometimes you have an employee with a computer problem that we can resolve right from where we sit. This is faster and less expensive solution when it makes sense and we do it all the time.
Networking (Existing) – We would be quite comfortable to come into an existing networked environment and pick up the pieces of keeping your network together. It is important to note that password credentials would be expected to be supplied. No passwords where required may be able to be breached through our password cracking expertise but in some cases can require a reformat of the networked server environment.
Networking (New) – We are happy to come in and lay the ground work of your business environment. An expense for consulting time would be required as we wrap our head around your businesses needs and suggest for you our proposed solution. CompuMatter is not a certified cable installer so if this job requires behind wall new cable installations we would align ourselves with a local solution provider to bring your solution to the finish line. If your job is able to be resolved with exterior or overhead cabling, or the cabling is already in place, we are happy to complete that portion of the job.
Networking (Wireless) – We are well equipped and able to help you with most of the wireless problems that small to medium sized businesses are likely to encounter. Some proposals will require a consultation expense for us to be sure we have a clearer understanding of the goals and to take the time to research the best solution. The generic term 'Wireless' encompasses a very large area of needs and possibilities, from a small business to an entire city. We can't do it all, but we do comfortably handle the majority of needs that come our way.
Linux Server Administration – CompuMatter has competent in hours linux server expertise. If your business is being run by a linux server, we would be on your short list to call. You must recognize that linux servers come in many different flavors. The flavor you have may, or may not be second nature to us. However, linux itself is, so at best it would be just a matter of a little research to address your particular flavors needs.
Microsoft Server Administration – At present our existing staffing situation allows for helping with an existing Microsoft Server installation but do not consider ourselves experts in this area. We are pretty good with all things computers including servers in general. We actually build servers down here so this is not foreign territory. However, our main server expertise is in linux and MS Server would be a secondary area for us. Having said that, give us a call and relay the problem to us. If we think it's within our sphere of expertise, we'll be able to help you. Otherwise, we'll give you our thoughts.
Website Creation or Maintenance – Todays businesses rely on websites to do their bidding. Often times you may already have a website but the person who was responsible for keeping things going is no longer there. We have extreme expertise in this area and would be well qualified to jump in and sort things out and keep your website humming. Alternatively, you may decide it's time for a new website. We are confident we are your best solution. Please view our website page for more information on this
EMail – You may have email hosted at your facility, offline at some other host or maybe you wish to get company email put in place for the first time. In either case, this is right up our alley. Just give us a call and let us know what your trying to accomplish and we'll be able to assist you.